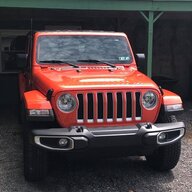 First Name

Pat
Joined

Jul 15, 2021
Messages
Reaction score

105
Location
Vehicle(s)

2020 Sahara
I've been asking a lot of questions lately and I appreciate everyone's patience with me. My last Jeep was a ratty old "90 YJ that I simply welded things to as I made modifications, lol. I never worried about longevity or handling with her. She was my weekend toy and I had a blast with trial and error type mods to her.
Well my Sahara is a different beast; I paid about $45k more for her than the YJ and I have to rely upon her to get me to work each day and also be able to get my 16 year old safely to his destination and home again when he borrows her.
I love the ride that I get from my Sahara on my daily commute and also on the highway. I took her to Va Beach a few weeks ago and averaged 80mph on cruise. It is the nicest 4wd vehicle that I have ever owner. I have driven 100% on the road since I have bought her but will probably venture off road on lite duty trails in the future; nothing extreme. Unfortunately I hate the factory rake and the stance that she has so I have decided to go with a lift.
I originally thought about going with a spacer lift but then I visited the local Jeep/truck/4wd shop. They suggested I go with a Teraflex 2.5" lift and 5100 Bilstein shocks. He says that I will retain the same factory ride and actually improve it on the road and level out the rake and give me the stance that I am looking for. I will also have the capability of being able to do some off roading when I am ready and have the time.
I am on 33's now and I'm hoping to put 35's on her this winter or in the Spring.
There is another lift post that went up this week (I didn't want to hi-jak someone's post) that had one recommendation to add Mopar lca's when lifting (I think it referenced them to be about $60?). Is this something that I need to add to the lift and shock combo?
Is there anything else that I need to upgrade to keep everything the way it should be?
I am assuming that I will need to take it in for a front end alignment once the lift has been installed?
Are the Teraflex lift and Bilsteins quality parts for what I want to do with them? Will this combo give me a good productive life before needing to replace components?
Here is a link to the kit on the Quadratec site:
https://www.quadratec.com/p/teraflex/2-5-inch-coil-spring-lift-kit-jeep-wrangler-jl-and-unlimited-jl
Thank you for your time!