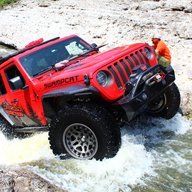 First Name

Steve
Joined

Mar 2, 2018
Messages
Reaction score

265
Location
Website
Vehicle(s)

2018 JLUR
Build Thread
Occupation

Google Data Center Maintenance Program Manager
Vehicle Showcase
Here are my thoughts
on the new 2018 Jeep Wrangler Unlimited Rubicon (JL). What are your impressions, and why?
http://www.c4x4.com/Projects/Swampcat/JL/JLreview.html
By Steve Garrett
Unless you've been living under a rock, or are new to the Jeep world, you've heard about the newest Jeep Wrangler. This model, the JL, replaces the JK and marks another 10 years of production for this iconic vehicle. Living up to the hype of the most anticipated vehicle release in history was no easy task, but most agree that the JL is a worthy replacement for the JK. Here's the thing, though, they're all wrong.
The Jeep brand has had a loyal, almost cultish following since before it was even commercially available. Troops coming back from WWII jumped at the chance to pick up surplus Willys and Ford rigs from the war. In the 50s and 60s there were even ads run for a '$50 Jeep in a Crate', but that turned out to be a scam. Fast forward to 2007, and the launch of the JK/JKU sparked 10 years of unprecedented sales numbers that went hand-in-hand with exponential growth in the enthusiast community. Most of you were probably like me, completely rejecting the idea of a four-door Wrangler. "That's not a Jeep, that's a minivan!!" I used to say. I had always been a Jeeper, having spent most of my childhood in my Dad's 82 J-10 Honcho. Admittedly it was also not a Wrangler, but it still only had two doors. I slowly joined the cult, though, and in 2014 found myself buying a JKU. Love it or hate it, the JKU has forever made its mark on the Jeep brand, and in this humble Jeeper's opinion, that has been a good thing.
Then came time for the new model. Jeep has launched a new Wrangler every 10 years since the YJ was released back in 1986. So it was no secret that something new was coming. Spy photos of JLUs covered in black and white camouflage began making their way out of Toledo in mid 2017, and ignited the rumor mill. The gossip ran rampant about what was to come, with each photo being meticulously dissected and analyzed by every automotive journalist in Western Civilization. The speculation finally gave way to facts with the official debut at the 2017 LA Auto Show. The JL launched to palpable excitement, and sales took off. Reports from April indicate that Jeep posted it's highest sales month ever, and that the Wrangler nearly outsold the Toyota Camry.
At this point, the JL has been out for a few months, and no matter whether you've been a Jeeper since the CJ or this is your introductory course, chances are you've seen some media coverage on it. You've watched or read some reviews, or drooled over pics from Easter Jeep Safari and Jeep Beach. Maybe you've seen one cruising around your hometown, been down to the dealership to check them out, or bought one. What could be left to to write about, you ask? Well, there's plenty.
We've heard a lot about the sales points that Jeep has been pushing. The Sky One- Touch Power Top, zipperless and easier to fold soft tops, easier to fold windshield, high-clearance fender flares on the Rubicon models, the 8-speed automatic transmission, etc, etc. But what aren't we hearing about? What problems does it have? What sales points are just gimmicks? Well, I've been driving my JLU Rubicon for a couple of weeks now, and I'm going to try to break it down for you.
To set the baseline, my JLUR is an automatic, and is fully loaded except for the cold weather package and the proximity keyless entry. I also test drove a Sport and a Sahara. As of this writing, neither the 2.0L Turbo 4-cylinder motor or the 3.0L Ecodiesel V6 have been released, so they won't be discussed here. The 3.6L Pentastar V6 that's in every JL right now has been continually refined since its initial inclusion in the 2012 JK, and the newest version in the JL does not disappoint. It responds eagerly throughout the RPM range, and when coupled with the new for 2018 8-speed automatic transmission this powertrain is smooth, aggressive, and reliable. The transmission shifts almost imperceptibly under normal acceleration, and having such a wide gearing range has boosted the fuel efficiency considerably. I've driven just over 1,500 miles and am averaging 19.5 MPG (including a couple trail days). Plus, the auto makes trail riding so much more fun, especially in technical terrain. I've always been a die-hard manual transmission loyalist no matter the vehicle, so I was a little skeptical about switching to the auto, but my concerns gave way to excitement the first time I crawled over a few boulders.
I broke in my rig, named SWAMPCAT, at the Pensacola Dam in Disney, Oklahoma. This area is home to huge rock crawling events like the annual John Sumner's Big Meat Run and UCORA's Crawl for Christ, and has almost every type of off road terrain you could want. Mud bogs, wooded trails, loose hill climbs, slippery rocks, dry rocks, loose water crossings, bounty hills, graded dirt roads, and even a little sand. I put the JL through its paces in most of it, and I was not disappointed. Obviously, it's not a buggy, so I stayed away from buggy rated stuff, and I hate mud bogs, but otherwise the JLUR handled itself superbly and kept asking for more. In its stock form, with Dana Advantek D44 axles, 33" BFG KO2s, electronically disconnectable swaybar, Tru-lock e-lockers front and rear, high-clearance fenders, 4.0:1 RocTrac transfer case, and 4.10:1 differential gearing, I had no problems conquering the terrain. I found myself using pretty constant (but light) left foot braking to slow my progress and curb its eagerness in the smaller rocks, but in the boulders it crawled smoothly and confidently. It does have a button actuated hill descent control function, but I keep forgetting that's there, so I haven't used it. Water fording capabilities are as advertised (30 inches give or take, I didn't get out to measure the pond, haha).
Another point of contention in these first few months has been the Front Axle Disconnect. The FAD was included to help improve the gas mileage numbers for this model, and it serves the same purpose as locking hubs. It disconnects the front axle shaft, so when you're driving in 2H, or rear-wheel drive only, you're not spinning your front driveshaft and ring/pinion gearing. This minimizes the rotational mass and friction that artificially loads the drivetrain, which in turn means the engine doesn't have to work as hard, and those components don't wear out as fast. The operation of the FAD is transparent to the driver, I never even had to think about it while wheeling. It's electric and is automatically controlled by the Jeep's software when the t-case is shifted into and out of 4WD. Also, FCA was nice enough to prep a software update available at the dealership, so if (or when) you swap in an aftermarket front axle, the computer can be updated to remove programming for the FAD. Incidentally, this same software update can also be used to reprogram your computer for common changes like differential gearing and tire sizes.
A couple of other observations. The engine auto-start/stop feature will continue to function in 4-High (unless manually disabled, which is quick and easy), but the Jeep does automatically disable this function in 4-Low. I didn't find this to be a nuisance, or unsafe. It didn't shut-off the motor any time I was on an incline or decline greater than about 10 degrees, so there may be an interlock there with the Jeep's inclinometer. Also, when it did shut off, I never lost power steering or braking ability. On the subject of power steering, the new electro-hydraulic system is awesome. I never installed a hydro-assist upgrade on my JK, but now I wish I had. Steering was a breeze off-road, even in spots that used to require my entire upper body strength in the JK. The lockers and sway bar operation are also much more user friendly than in the JK. In addition to better switch design and labeling, there is a display in the center gauge cluster that provides current status of each of these components, and will tell you what they are (or aren't) doing. This allows you to quickly confirm whether your drivetrain is actually configured the way you think it is, and identify when or if there's a problem. Speaking of those gauge cluster displays, they are super informative and just plain fun. In addition to the drivetrain status mentioned above, there's also an inclinometer that will give you the current pitch and roll angles of the rig, and of course the TPMS displays current tire pressure. Rumor has it that Jeep will soon be releasing a software update for the Uconnect system that will include several 'Off-Road Displays' with even more fun and useful stuff.
On the street, the JL Rubicon drives like a sedan, with a little more than average stiffness over bumps. The Sahara is super smooth, and the Sport rides a lot like the JK Rubicon does. Which one you choose depends on many factors, but my recommendation is this, if you consider yourself a 'Jeeper' and you can afford it, get the Rubi. If you're getting a Jeep for around town or only ever plan to drive graded dirt roads, then the Sahara is the better choice. For the more serious off-roader, there are so many little things that come standard on the Rubi, but not the Sahara or Sport, that turning them into a Rubi-clone would be much more expensive than just getting the Rubi. High-clearance fender flares, wider axles, RocTrac transfer case, and 4.10 differential gearing (with optional tow package) are just a few things that all come with the Rubicon and are worth every penny. The tow package, while an option, yes, also gives you a more powerful alternator and the 4 auxiliary switches pre-wired from the factory with wiring ready to go in both the passenger footwell and the engine bay. This lets you wire up whatever accessory you've got in mind, without breaking a sweat running wiring anywhere. So yeah, it's an 'option', but it might as well be standard because I don't know anyone who would turn that down. While we're talking about options, I will also praise the steel bumper group and the 8.4 Uconnect Infotainment system. The steel bumpers are (in my opinion) the best looking bumpers available for the JL right now. The only issue I have with them is that they don't have shackle mounts, instead offering only open recovery hooks. I prefer shackles for recovery points because they're closed. The front bumper is pretty much winch ready (you'll need to purchase a winch plate separately), and has removable end caps to convert it to a stubby. I put a Warn Zeon 12S in my factory bumper, and except for a little grinding on the insides of the frame horns (about 1/8th"), the winch fit inside the bumper perfectly. The Uconnect upgrade is also well worth the price of admission. Jeep is advertising this as basically a larger screen, but it's so much more than that. I won't cover everything, but this package includes acoustic glass for all the windows and windshield, active noise cancelling, Alpine speaker and subwoofer upgrade, and a whole host of software features in the center display, including in-vehicle WIFI. If you've ever ridden in a Wrangler and thought maybe there was a smidge too much road/wind noise, then the Uconnect upgrade package (coupled with an aftermarket hardtop headliner kit) is as close as you'll ever get to Rolls Royce levels of quiet. It'll still be a Wrangler mind you, but you'll be able to hear yourself think.
In the interest of full transparency, I want to discuss some of the issues that have been identified in these first months as well. I haven't personally experienced any undesired performance or quality issues, so I'm reporting these from researching the forums (
www.jlwranglerforums.com
). Right up front I'll say that most of these issues are relatively minor annoyances that are common types of things to happen when a new vehicle model is launched. Especially when the factory was completely re-tooled for that model, and sales numbers grossly exceeded expectations. These problems are also occurring relatively infrequently compared to the total number of vehicles produced, and Jeep has been doing their best to make things right as they learn of the issues. To date, these issues include leaky rear window sprayer nozzles (leaving a constant streak down the rear window), excessive wind noise/whistling from the windshield (due to improper windshield installation), mismatched color fender flares, and delivery problems for those who've placed custom orders from the factory. Two major and legitimate safety issues have occurred (that I've heard about so far). One is intermittent failure of the electric power steering pump that results in loss of power steering. This has occurred in a very small number of vehicles (about 20 that I know of) but it is a serious safety issue. Jeep is investigating the root cause, and should issue a TSB on it once they've figured it out. The other issue is a single occurrence of the track bar bracket breaking off the frame at the welds. This was attributed to poor factory welds, and FCA built the customer an entire new Jeep for the trouble. FCA is pumping about 900 of these a day out of the assembly line in Toledo, so one failure isn't really anything to be too worried over.
There are a million more things that I could write about... the little digital Willys that drives across the bottom of the gauge cluster when you start the engine, the lighter and easier to remove hardtop, the drink holder in the tailgate, the brilliant Uconnect media system, the factory-wired connector for for a trailer e-brake controller, the extra terminals on the battery for accessories, the bolts on the side of the fenders that serve no other purpose than to mount accessory brackets, etc, etc, etc. Like I said, the critics have it wrong. The JL isn't a complete re-design and overhaul of the Wrangler platform. No, it's the culmination of 10 years of design feedback and lessons learned from the JK. It's the best of the JK features and enthusiast recommendations, tweaked a little, mixed with some new features, and all put into one package. The JL absolutely lives up to the reputation set by those that preceded it, and asserts that Wrangler is still the master of the field. It's everything the JK could have and should have been.
Last edited: