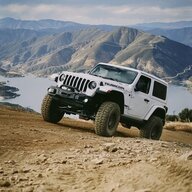 First Name

Jesse
Joined

Aug 23, 2019
Messages
Reaction score

886
Location
Vehicle(s)

2019 Bright White 2dr JL Rubicon 3.6
I hate to make a 2 vs 4 door topic, but after almost pulling the trigger on a near-perfect optioned 2 door JLR 300 miles from me I started to hesitate. I've only wheeled in a 4 door JLU out here and the trails near me (Miller Jeep Trail/Lockwood, Clark's Grade OHV trail in big bear, Hungry Valley SVRA loop, etc are a few I've tried, all Southern California area) seem to be lots of mountain climbing, big elevation gains/descents.
I've never so much as driven a 2-door, but the consensus is that they're incredible off-road machines with better breakover in stock form but then everyone seems to make the quick passing comment "they're not as good for climbing" either in reference to specific large obstacles or just generally. If I'm out here doing trails with heavy grades and obstacles on those heavy grades (Miller Jeep Trail was the biggest challenge IMO) am I going to feel significantly less confident in these types of situations in a relatively stock JLR (probably very mild lift with 35s) vs the long wheelbase 4-door?
This will be my daily and I can make both JLR or JLUR work in terms of space, but I just don't want to feel like I can't take the same trails my buddy's JLU can swing confidently without feeling like I'm going to end up on the roof. This is my first wrangler, so am I overplaying the SWB vs LWB debate here? I'm not going to be pulling near-vertical Moab-style climbs with this thing, but I've piloted that JLU through some heavy climbs and obstacles that I'd definitely like to be confident over if I go 2-door.
Thanks for the input and thanks in advance for bearing with me on lighting the 2 vs 4 fire again. I'll be past this point and wheeling soon I hope! Pic below is the JLR I'm eyeing.