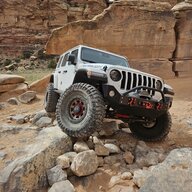 First Name

Chris
Joined

Aug 24, 2021
Messages
Reaction score

290
Location
Vehicle(s)

2021 JLUR, 2021 Sahara 4xe (wife's)
I have a 2021 JLUR on order. I'm having the dealer put on 35s right away. I'm trying to figure out what lift I'm going to put on. I live in the Midwest but like to take trips out west for photography and some wheeling. My Jeep is my road trip vehicle as well as my daily driver so I want something that rides well on the highway yet still be fully capable off road.
For shocks I will most likely be going with the Teraflex SP2 3.3 Fast Adjust. Many people rave about these shocks but some say they are way too stiff. Most say the SP2s are a big improvement over the original version. I have the original version of these on my JKU Sahara. Overall I've been very happy with them so I expect the SP2s should be no worse and hopefully much better as many have said.
The lift will most likely be the first thing I do to my Rubicon. Within about 18 months I'll be doing front and rear bumpers and a winch, but until then I'll just have the stock plastic bumpers.
I've narrowed my lift kit list to three choices and am looking for feedback. All three will exceed my needs off road. I'm really wondering how the three will compare on road when paired with the TF SP2 3.3 shocks.
MetalCloak Game Changer 2.5. I like the gold zinc finish; it should stand up very well to salty midwestern winter roads. This is probably the most capable off road and the ultimate flexor of the three. Price is very reasonable.
Clayton Off Road 2.5 Overland+. Off road should be similar to the other two. Price is extremely reasonable.
Teraflex RT2. Many people rave about the Alpine IR control arms. Will there be a synergy from matched coils and shocks from the same brand? Price is still within budget but considerably higher than the other two. This one should be more than I need off road, but considering the increased price will this kit be noticeably smoother on road?
One other thing I'm wondering about is how much lift I'll gain with the Teraflex. From what I've read a lot people end up with 3" of lift or a little more with the MC and Clayton lifts. I've not seen any comments about this with the Teraflex RT2, but with some of their other lifts I've seen people say they ended up just a bit under the stated lift for the model. 2.5" will be plenty as long as I get 2.5" over the stock Rubi. I may move to 37s when I need new tires. TF states the RT2 will accommodate 37s with a change in bump stops. The other two also have no problems accommodating 37s but they are mute on whether additional mods are needed.
Thanks in advance for your feedback!!