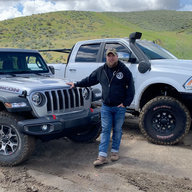 First Name

Mike
Joined

May 13, 2019
Messages
Reaction score

332
Location
Vehicle(s)

2018 Jeep JLU 2.0TE
Vehicle Showcase
Would it be to much to ask from fourm moderators to show some consistency and ban the 2.0 forum trolls from coming to the 3.6 forum and offering nothing productive? That was the excuse given to me when I was banned from the 2.0 forums for not offering anything productive.
But that's not going to happen because the protected class is the 2.0 and the diesel you can't say anything negative about them, but you're allowed to say everything negative about the 3.6.
I guess we should think of the 3.6 as white people. It's totally OK to hate on them but nobody else as that would be wrong.
Can't handle your own BS can ya? You started a shit thread, you're going to get shit comments. Deal with it buddy.
Anyhow, 2.0L spins 37's with ease. Can't say the same about that anemic mini-van engine. But it is reliable. My moms 2011 Town & Country is still going. Almost 200K on it!!
Also, did we ever get a confirmation in this thread that this is the case, and not nonsense? I'd like something published showing it's not being added to the Rubicon anymore...