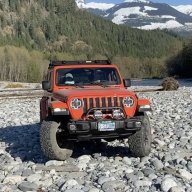 First Name

Jerry
Joined

Dec 29, 2018
Messages
Reaction score

4,538
Location
Vehicle(s)

2018 JLU Sahara 2.0L
The dipstick on 2.0 is different than that of 3.6.
Did my first oil change on the 2.0 last weekend and was having a real hard time getting a correct oil reading level from the dipstick, anyone else having the same issue? Since I live in Canada they use metric over here and 5 quarts equates to 4.73L, so I bought the 5L jug and left about an inch of oil left in it.
First off, the dipstick is tight, and I mean REALLY tight, have to jimmy it in with two hands bit by bit, otherwise it will bend and crumple, and it feels like it's rubbing metal shavings off every time you check it. The problem that arises from this is that it's always scraping residual oil off the walls of the dipstick tube and that messes up your reading, it took me something like 8 tries before I could get a remotely legible reading. (see pic)
I did look at the manual before checking the readings, now, there are no markings or labels on the dipstick, I'm assuming that the lower hole means Min. oil level and the upper hole means Max. oil level. Checking the dipstick after 5 minutes the engine has been off is registering 3/8" over the upper hole.
Is this normal? Anyone else having the same troubles with the dipstick? Thanks.