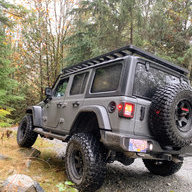 Joined

Nov 6, 2019
Messages
Reaction score

6
Location
Vehicle(s)

2019 Jeep JLU Sport S
We loved the Sting Grey, 4 door and semi-responsible price tag. Of course, on the drive back home from the dealership orders for simple mod's were made. Then the second we are in the driveway I start peeling OEM stickers. Then here's where it gets fun...
Plan A
-Mild Lift
-A/t Tires
-Recalibration
-Roof Rack
-Flexible Antenna
-Roll Bar Handles
After quite a bit of research (not nearly enough) and a few phone calls we decided on a Rubicon express 2.5" lift kit, shock extensions and lower control arms. We added an adjustable JKS front track bar hoping that would help with the geometry come alignment time. Once suspension was sorted out we moved on to wheels and tires. Now, we made the classic error "we don't want to go too big" and settled for a set of 17x9 Procomp steel wheels and 305/65/17 Nitto Terra Grappler G2's. Once everything came in the mail we went to a local shop and had it all put in. Realized during install the shock extensions were going to be a bad idea, opted for the shop to order and install some Rancho Rs9000XLs.
We picked the jeep up the next evening, everything was awesome. looked great, responsive, no dash lights and best of all it was brand new.
Well, next thing to do is get the rack installed. Read through the instructions, figured we had a good idea of what to expect and started the procedure. Thats was lot of hardware and everything so poorly explained and shown in the instructions. Next step, drill 8, yes 8 holes through your brand new hard top and secure it all with 10mm hardware
Went smoothly and the holes all lined up, the install was over, the rack was in and time for a test drive. First reactions - how is it making this much noise? Well, back to the garage and back to re tightening bolts, checking appropriately for hardware all the things you would think. Next day, same damn rattling. Now to take everything apart again, re install, re torque and try again. Guess what - same s**t. So this time we decide to really go to war with this thing and completely dismantle every part bolt and screw. Cleaned it all, prepped it all and decided to go round 4. Purchased some adhesive backed foam gasket, silicone and some slightly longer 10mm bolts. So we decided to throw some extra torque on the big bolts (13mm) that secure the centre of the rack to the Jeep and wow was that a bad idea, we ended up completely bending the brackets into a unusable shape.
A call in to frontrunner for replacement brackets under warrenty and within a week parts came, the rack went back together, 5th times the charm, everything was working, looked great and you guessed it, no rattles. We took it out for a test drive and were so happy that it was all finally working out, the sky opened up and the rain came down and every one of our 8 rooftop holes poured water equal or greater to what was coming down outside.
A few dozen camping trips, One 10 day nevada/cali bender, FSR treks and the odd evening run. We decided at this point by going the cost effective route on the suspension, wheels and tires was not going to work. Bound to not make the same mistake twice we took to the internet searching, asking and reading on exactly what Paul from epic adventure outfitters proposed to us, Plan B.
Plan B
Teraflex 3.5" Lift
Teraflex Drop Brackets
Falcon 3.3's all around
Nexus Steering
Fuel Shok 17x8.5 Wheels
35x12.5x17 BFG KM3
Teraflex Atlas spare tire carrier
Re-Calibrate
Paul and his team at Epic KILLED this installation, spec'd all the right stuff and couldn't have done a better job making our jeep dreams come true. Now, ugly price tag but well worth it. After taking this rig out on some trails and FSR runs we are back loving the jeep.
More to come. On order currently...
Hotheads Headliner Full kit
Carhartt Seat Covers
LoD signature Series Mid Width front bumper
Warn VR 10s Synthetic winch
Factor 55 Prolink
Evo bomber rock sliders
V bar tire chains ( we live in snow country )
67 Designs rail phone holder
Bartact Grips
Blue Ridge Overland Tool & Recovery bags
Photos as we install!
Last edited: